Valentine Tales of Love, Mystery & Suspense
NOW AVAILABLE FOR SALE EVERYWHERE!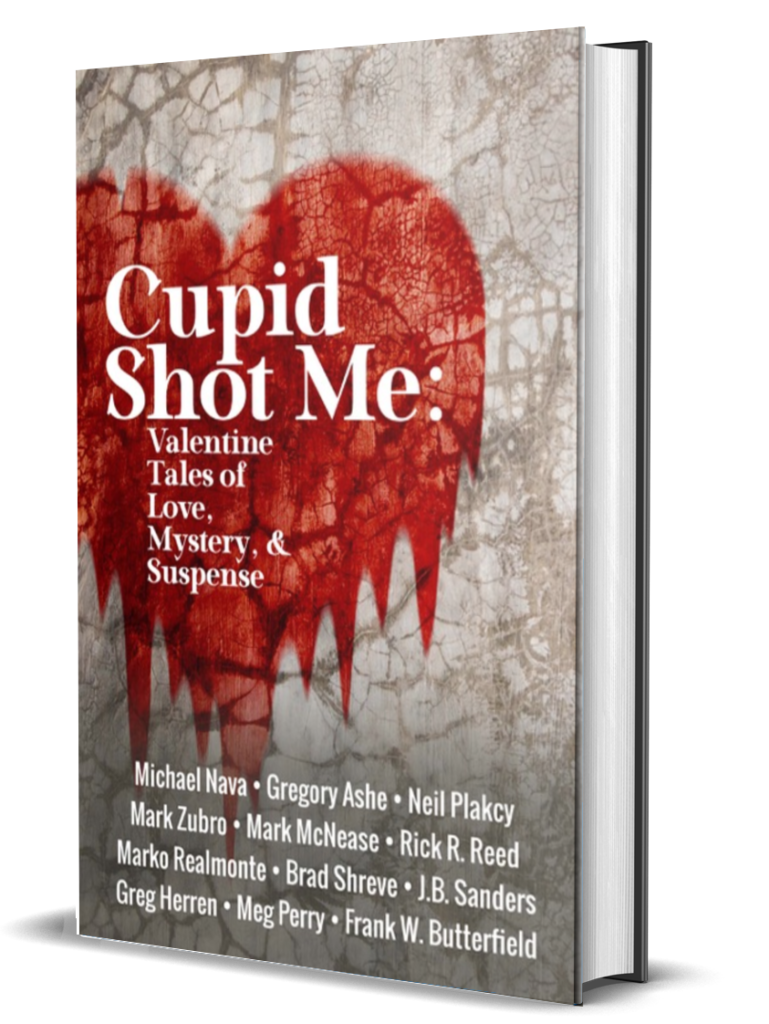 As heard on Queer Writers of Crime Podcast…
With an Introduction by Michael Nava, celebrated author of the Henry Rios novels, these eleven stories centered around a Valentine's Day that doesn't go quite as planned will mystify and shock you!
"Responsible Adults" by Gregory Ashe
When Emery Hazard and his husband, John-Henry Somerset, chaperone a high school dance, Hazard is a bit overzealous in enforcing the rules. But not everything is as it seems, and a couple of kids sneaking out quickly goes from bad to worse.
"Glen & Tyler Skip Dessert" by J.B. Sanders
Glen has planned the perfect Valentine's Day dinner surprise for Tyler, the man who has everything. It's one delicious dish after another until someone dies. Can Tyler figure out who did it before his soup gets cold?
"Cabbage Key" by Neil Plakcy
When Miami private eye, George Clay, and his lover, Alex Reyes, want to spend a romantic Valentine's weekend in 1969 together, they travel to remote Cabbage Key, off the coast of west Florida. But crime follows them, threatening their long-held secrets, and those of a couple they meet there.
"Roses Are Dead" by Mark Zubro
Valentine's Day starts off on a high note for Detective Paul Turner. Then a dead porn star with shattered dreams of finally cashing in threatens to derail what was going to be a perfect ending for the day.
"Paper Hearts" by Mark McNease
It's been thirty years since Marshall James last spoke to Mac McElroy, a former LAPD Detective. He decides to see if Mac will talk to him now, or if he's even still alive. But first he tells us what happened when a friend was found murdered long ago, how it almost cost him his life, and how it left their hearts in tatters.
"I've Been Inside Your House" by Rick R. Reed
For Stephen Embert, the fear began the day he read the Chicago Tribune's story about a string of murders of gay men in Boystown. Then he gets home to find two cards, one to a Valentine's Day bash at the home of his debauched friend Tabby Tyler and another, from a stranger, with a picture of a black feather on the front and the words, "I've been inside your house" on the interior. Will these personal connections, one exciting and one chilling, have a connection to the killings in Chicago?
"Paris" by Marko Realmonte
Trent Reynolds is mourning the loss of his partner. He travels to Europe where he meets a mysterious boy on the night train to Paris. Their love affair will lead to murder. "People make such terrible choices when they're lonely."
"Bound to Love" by Brad Shreve
Ryan is ready to get serious with David. Finally. The two are out for a Valentine's night at their regular watering hole when David gets an urgent call from a client. Leaving in spite of Ryan's objections, David finds himself tied up in a way he wasn't quite expecting.
"This Thing of Darkness" by Greg Herren
High school was almost forty years ago and that's how long it's been since Glenn laid eye on David. That's also how long their secret has been hidden. Now David is in town and wants to see his old high school buddy. After such a long time, Glenn had almost forgotten the events of that long-ago night. Almost…
"Speed Murder" by Meg Perry
Detective Rob Jones is almost out the door for the night when his partner announces they just caught a case. A speed dating event has been cut short when one of the guys is found dead. In a room full of suspects, can Rob nab the perp before Valentine's Day ends?
"Let's Fall in Love" by Frank W. Butterfield
It's Valentine's Day and Whit and Eddie have been so busy getting to know each other that they both completely forgot! Just in the nick of time, they're invited to a small party. Both the living and the dead are in attendance, however. And one of the ghosts would like to know the name of his murderer, if Eddie's not too busy.